"Every revolutionary idea seems to evoke three stages of reaction. They may be summed up by the phrases: (1) It's completely impossible. (2) It's possible, but it's not worth doing. (3) I said it was a good idea all along." Arthur C. Clarke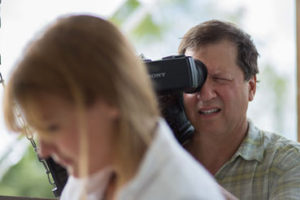 I strive to be open and prepared for the revolutionary idea when it comes up on set!
On my sets I like an upbeat vibe. I like to get things done. I will tell you when the story or the shot doesn't work. I prepare thoroughly and work hard, and I expect the same of my team. I want to create with you.
My long time soundman says, "Martin values competency above all else."
Here are what some of my clients say:
"I love working with Martin. His extensive knowledge of production means he always has an idea of how to get a better shot or solve any problems we may encounter. He has a good eye for broll which really helps us get interesting visuals and makes editors very happy. I'm always confident when working with Martin that we'll come away with exactly what we need!"
Anson Burtch
dynamic media manager, capstrat
"I have to tell you that crewing on the Durham shoot was first- rate. 
 
 Martin, John and Matt are definitive professionals who endured an overly-long (and tiring) day…always positive, and the last shot looked as good as the first. Please keep them on the A-list, and I hope to be working with them again."
"Martin Brown is not only a wonderful videographer and director who approaches every shoot with the utmost professionalism and efficiency, but he is also a great person, and a lot of fun to work with, even on the most challenging of projects. His artistic eye and creative sensibility along with his never ending patience, and wonderful people skills make him an asset to any video production."
Rebecca Cerese
Producer, Shelter from the Storm Productions
"I like to think that I am not without my own skills when it comes telling a story, but when I know Martin Brown is on the team, I know that everything just got a whole lot better. Martin gets it. No aspect of visual communication escapes him. The well-crafted word, the elegantly composed shot, the essence of the story: Martin Brown knows how to put the pieces together. He is a professional's professional. You can count on him to make things happen, expertly, efficiently and beautifully."
"Our marketing agency has hired Martin Brown for multiple projects since 2008 as our main videographer. Martin offers so much more to our video team due to his abundance of experience, knowledge, and talent. From excellent lighting solutions, to helping achieve the best shot, Martin is not satisfied until we have captured the perfect footage. His kind disposition and attention to detail is appreciated by our staff, our clients, and plays a large part in the success of our videos. Thanks for being apart of our team Martin!"
Sherry Copley
VP / Strategic Account Executive, Train of Thought Marketing
"I can't thank you enough for your creative contribution to "It's Out Air". I felt like we were really in sync, and it was a pleasure to work with you. Hope we can do it again soon. Many thanks."
Kim Decoste
Netherwood Productions
"Beyond your obvious technical proficiency, I appreciate your sincere concern for capturing a complete and balanced suite of footage that will translate into a superior end product. You and your crew offer valuable counsel on how we can enhance certain shots without being assertive — in fact, you do it in a way that makes it feel like great friendly advice. I find your expertise and insight to be very beneficial to me as a producer and most importantly to my client. Thank you for making me look like a hero!"
Stacy R. Zotter
Producer, Knowledge Launch
"slp3D sets a very high standard for the video crews we hire to support our live surgery webcasts on OR- Live.com. Our clients are major medical centers and medical device manufactures across the country. We take extra care in selecting the crew who works with us in front of our clients. That is why Martin Brown of Treehouse Productions shoots our pre-live material and supports the production of our live webcasts in the Southeast."
Ron Obston
Executive Producer, slp3D Healthcast Network
"Throughout the process of developing, shooting and finalizing the video, your professionalism, enthusiasm and commitment to a superlative final product were evident. I especially appreciated the care you took in making the final edits which led to a very succinct but moving portrayal of our nurse anesthesia training program in Belize."
Nancy A. Kelly
MHS
 Executive Director, HVO
"I have always felt confident about the quality of the product that you would deliver and of your ability to work with my clients. It has always been apparent that you are dedicated not only to producing a superior product, but also to ensuring that the client was satisfied with the production process. With each project your extensive experience and knowledge was apparent."
William Coke Ariail III
Producer
Selected Clients
Broadcast/Commercial
ABC
A&E

Animal Planet

BBC ONE

CBS - 60 Minutes

Discovery

Discovery Health

FOX

HBO

Independent Lens/PBS

ITV

NOVA

TLC

Sci-Fi

GMMB

Grifols

John Deere

Maytag

Verizon
Corporate
BCBS
Capstrat
Carmax
Caterpillar
Cisco
Divers Alert Network
Elsevier
Harland Clarke
IBM
Kodak
Laureate Education
Ortho McNeil
Pixel Fish
PPD
Red Hat
Remax
Revlon
Sherring Plough
Texas Rangers
Unisys
Wells Fargo
Government/Institutional
Department of Veterans Affairs
EPA
Ford Foundation
NC Jaycee Burn Center
UNC Kidney Center
UNC Poverty Center
Wake Forest University
W.R. Kenan Trust